When a software company ponders the environment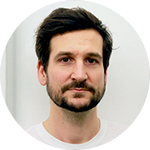 Timo Derstappen
• May 20, 2019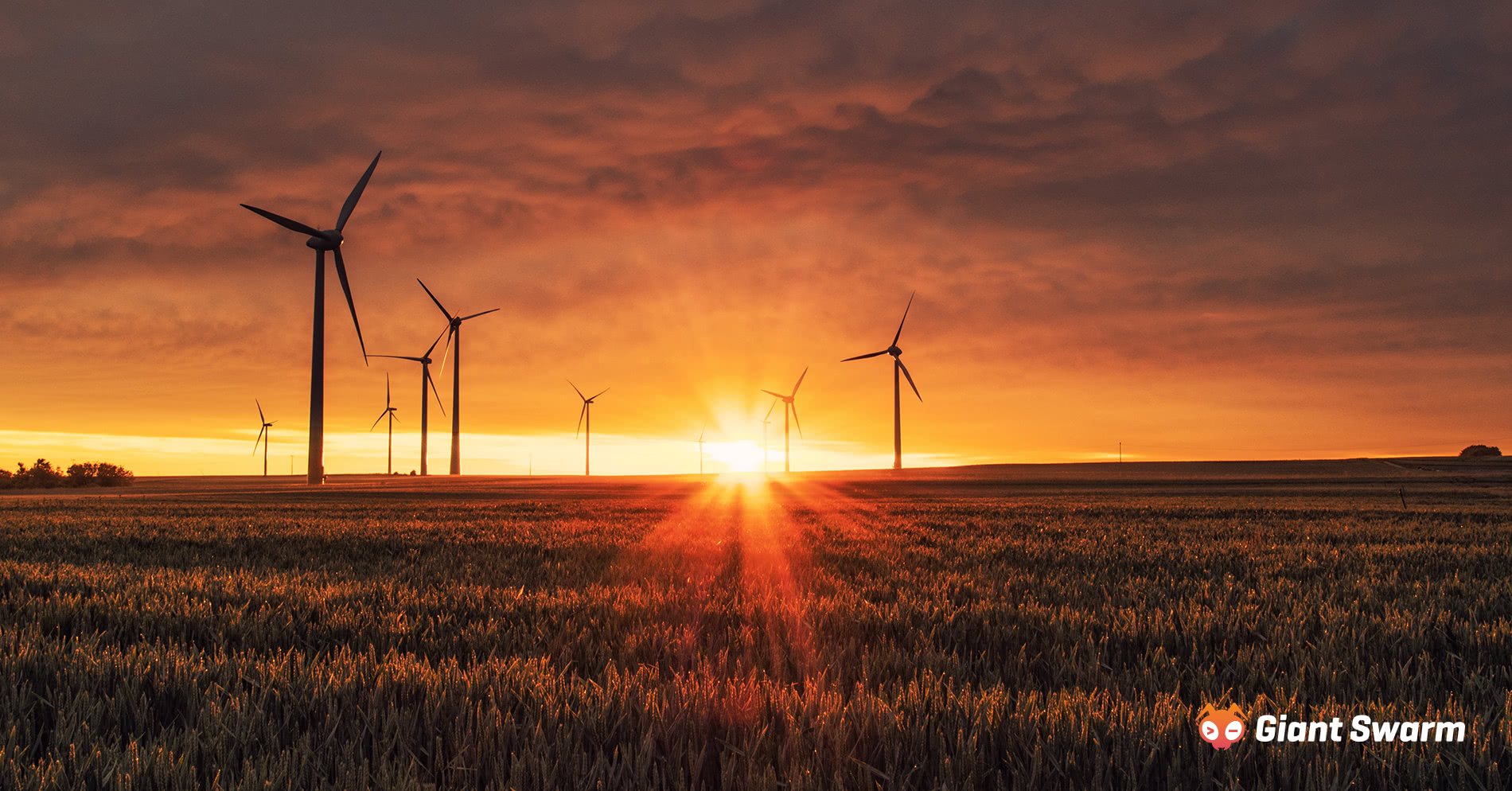 Giant Swarm is a small company with big ideals. It starts with our mission statement in which we state that "We give companies freedom to build the software that runs our world". Hey running the world is no small feat.
The thing is that we feel that there are more ways in which we can impact the world we live in. Take the environment, for instance. We care about it. Nice statement, right? Well, there are behaviours ingrained in our company that actually prove we walk the talk.
Travel
We enjoy engaging with the cloud native community at conferences and other events. It's also important for us to do this to make connections and keep up to date. We regularly meet with our customers and do workshops for them.
Where possible we try to use high-speed rail for travel. However, flying is often the only practical option. So with events, customer meetings and onsites this adds up to a lot of travel. Which impacts our carbon footprint negatively. This issue was raised by Marian, our user experience designer who asked if we could start offsetting our flights. He introduced a lightweight process for this and presented it during one of our regular lunch talks. So starting January 1st 2019, we offset all our flights using Atmosfair. A grassroots initiative made its way into the company status quo. That's self-organizing for you or maybe it's our open source DNA.
Although we are remote first it's also essential that we regularly meet in person. Often this is at conferences when there is one nearby. Or if someone is visiting a city where they have a teammate. Twice a year we have an onsite and get the whole swarm together.
One example of this is our current onsite in Barcelona during KubeCon EU. Some of the team from Belgium, Germany, and France traveled together by train. For those taking part, a train trip to Barcelona is a fun way to start the onsite.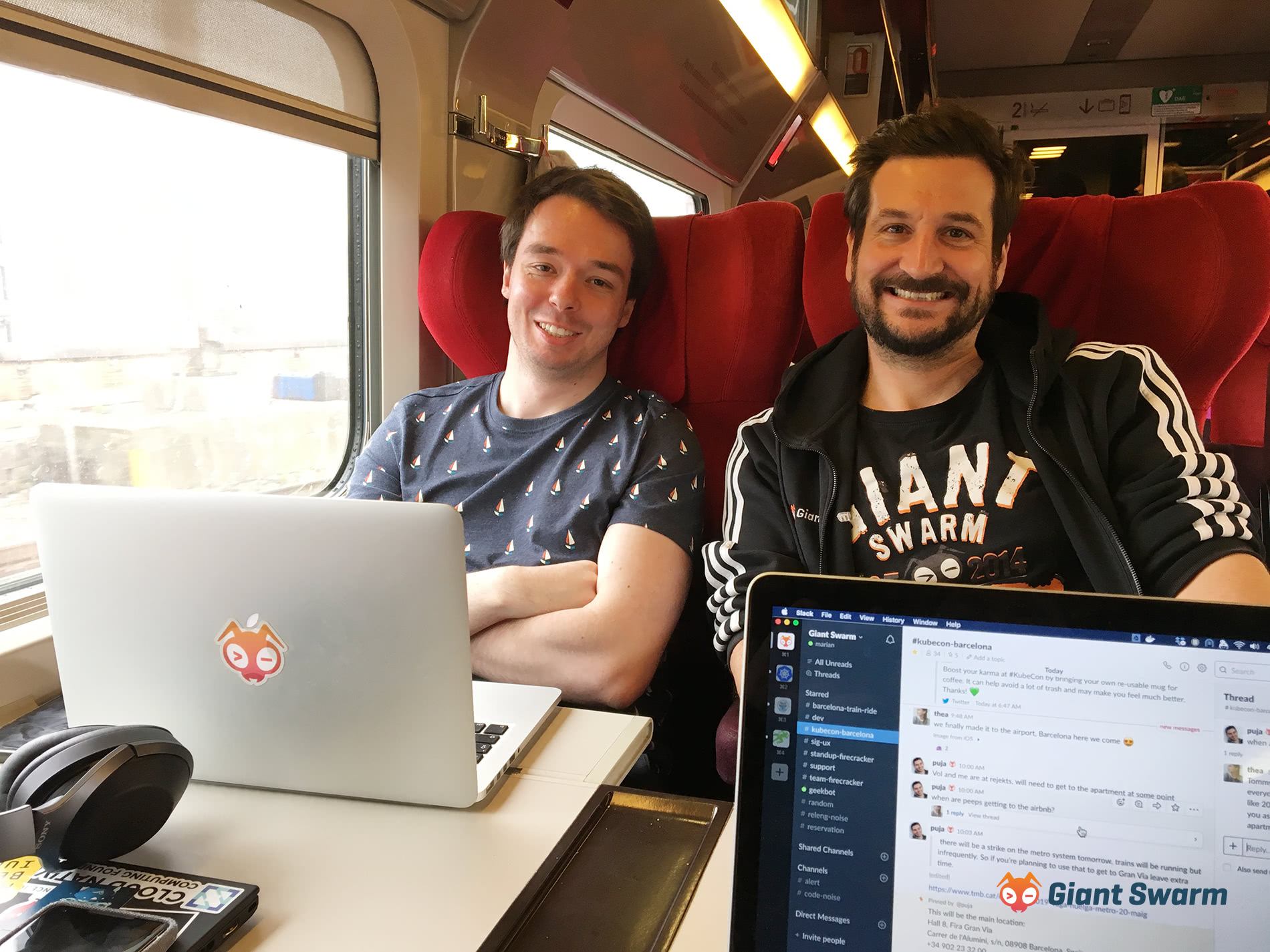 At KubeCon Barcelona it is clearly visible that the industry as a whole still has a long way to go. The amount of waste that is produced on a conference of that scale is massive, even when broken down to a single participant. The single-serving salad dressing pods, wrapped in another plastic foil, served in a plastic lunch bag. The coffee cups, cutlery, and plates are designed for single use. We know that we can do much better than that and we support CNCF taking action and adding environmental sustainability to their core values.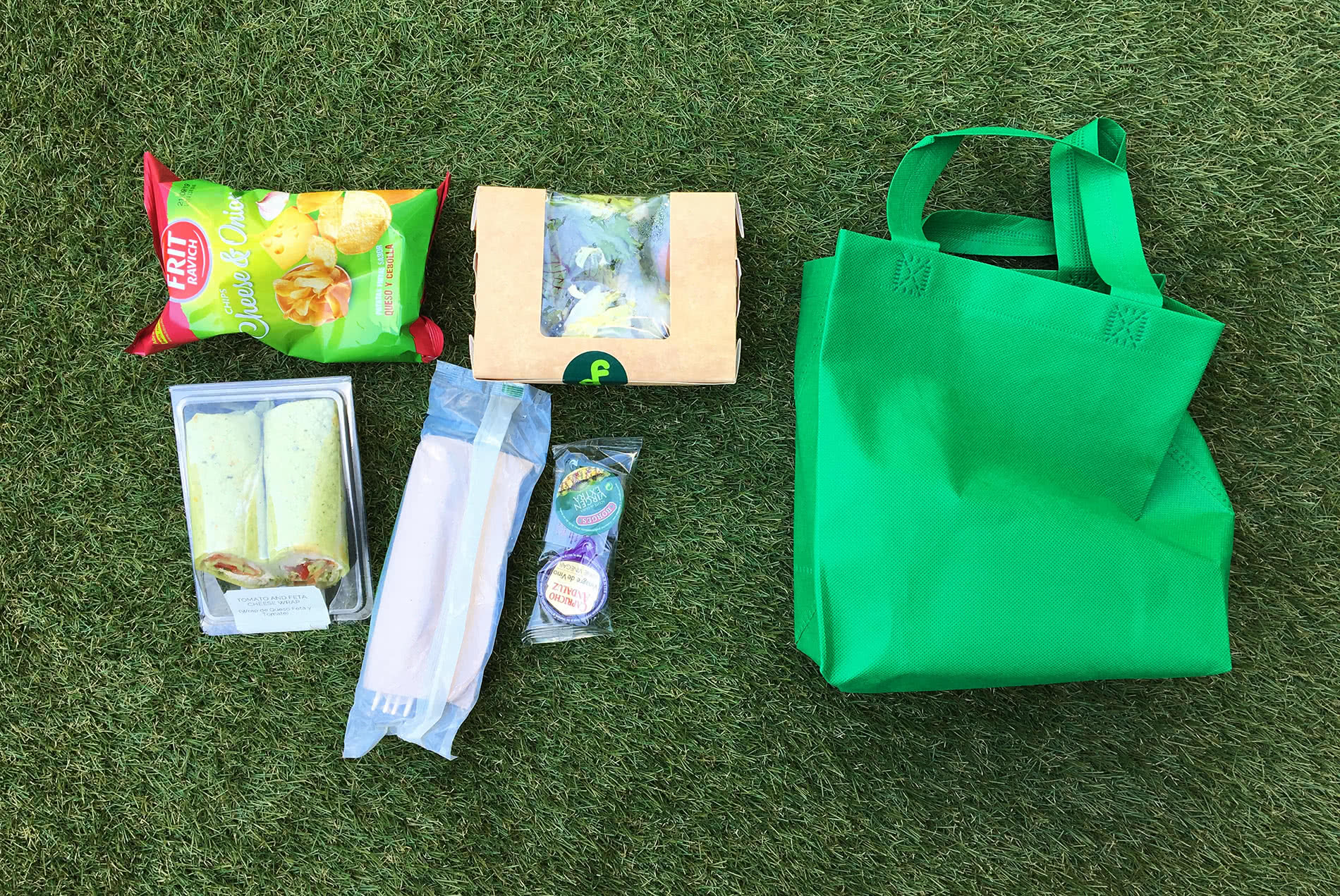 A typical lunch at KubeCon Europe.
Remote First
Speaking of remote first. As a remote first company, commuting is not part of the equation. That slashes our carbon footprint in relation to other similarly sized companies based in an office.
We are headquartered in Cologne, but what does that really mean? We have a small office in a co-working space in which you will find maybe 3 people on most days. All the rest of us typically work from home (in 11 different countries, mind you).
What do we do from our home offices? We manage cloud native infrastructure for our customers. This is, of course not done in a vacuum. Core to cloud infrastructure are datacenters and datacenter energy usage is increasing rapidly. This, in turn, affects climate change.
The good news is that many cloud native projects including Kubernetes can make a major contribution to increasing server utilization and running workloads more efficiently and optimizing resource usage. We're on a journey to continuously improve how we work together, and this includes reducing our impact on the environment.
Datacenters
As datacenters are basically at the core of our product, and our interactions with our customers, let's focus on those first. We've asked ourselves how big the carbon footprint of datacenters are these days. One source we found is clickclean.org, which is a project by Greenpeace that shows the environment impact of popular services such as streaming providers and social networks.
The vast majority of climate scientists state that we only have 11 years to limit average temperature rises to 1.5C. Datacenters currently consume 2% of global electricity, which is roughly the same carbon emissions as the aviation industry. They are projected to consume 20% of global electricity by 2025, contributing up to 5% of carbon emissions. Most cloud providers are on their way to moving to cleaner energy but there is much more to be done. The decisions we make as technologists matter. We can either improve the situation or make it worse.
We manage hundreds of Kubernetes clusters across 3 continents. Our customers have complex requirements for where they need to run their infrastructure. So we manage infrastructure wherever our customers need it. As we are becoming more aware of our own footprint, we will also pick up this topic with our customers and discuss ways to be more sustainable together. We do realize though that a lot of this is not completely in ours or even our customers hands. Our hope is that by raising awareness we can nudge certain actors, like datacenter and cloud providers, to be more active in the area of sustainability.
In the present, we make an impact by helping our customers use the auto scaling features of Kubernetes and most of them do so. A simple example of this is all our clusters come with metrics-server pre-installed and fully managed. As this is a requirement for using the Horizontal and Vertical Pod Autoscaler. On AWS all our clusters come pre-configured to be auto-scaling, so the only thing the customer needs to do is to configure the limits.
For our own infrastructure, we try to be sustainable as you can see below. But we recognize this is a work in progress and we don't have all the answers.

Azure
All regions on Azure are carbon neutral which is achieved via offsetting. We run our own website and docs site here as part of "eating our own dogfood". We also run test infrastructure and automated integration tests on Azure.
AWS
We run most of our test infrastructure and automated integration tests in eu-central-1 in Frankfurt. This as well as Dublin, Oregon, and Canada are the 4 AWS regions that are carbon neutral.
We also run a test control plane in cn-north-1 in Beijing which isn't carbon neutral. Since AWS China has different services to other regions we need to test there, but we keep our tests there to a minimum.
All our AWS clusters come with the cluster-autoscaler pre-installed and fully managed. This helps our customers to do node autoscaling more easily. Our roadmap includes supporting scaling workloads and clusters to 0 for test environments.
On-premises
Our on-premises testing infrastructure runs virtualized through Gridscale. The datacenter behind our machines there is run by interxion, which runs on 100% renewable energy.
Conclusion
Everything we do affects the environment. In this blog post we invited you to look through the Giant Swarm lens. From day to day commutes to business travel, through things that are less apparent. Everytime you spin up a cluster and an end-user takes advantage of the utility you created there is an impact on the environment. Starting to give thought to the less obvious aspects of environmental impact can allow you to help affect change in the world that will keep it safe for future generations.


Can we make tech conferences greener? PLEASE spend a few minutes filling out this survey and join the discussion. — Alexis Richardson (@monadic) May 8, 2018

If you want to help make tech conferences more sustainable, you can help by completing this survey. If you want to help make datacenters more sustainable, you can sign the petition to make Sustainable Servers by 2024. Kudos to Green Tech Conferences and Code Ethics for setting these up.
Main photo by Karsten Würth on Unsplash. KubeCon lunch photo CC0 1.0.