Running a Remote Onsite Giant Swarm Style

Oliver Thylmann
• Sep 14, 2020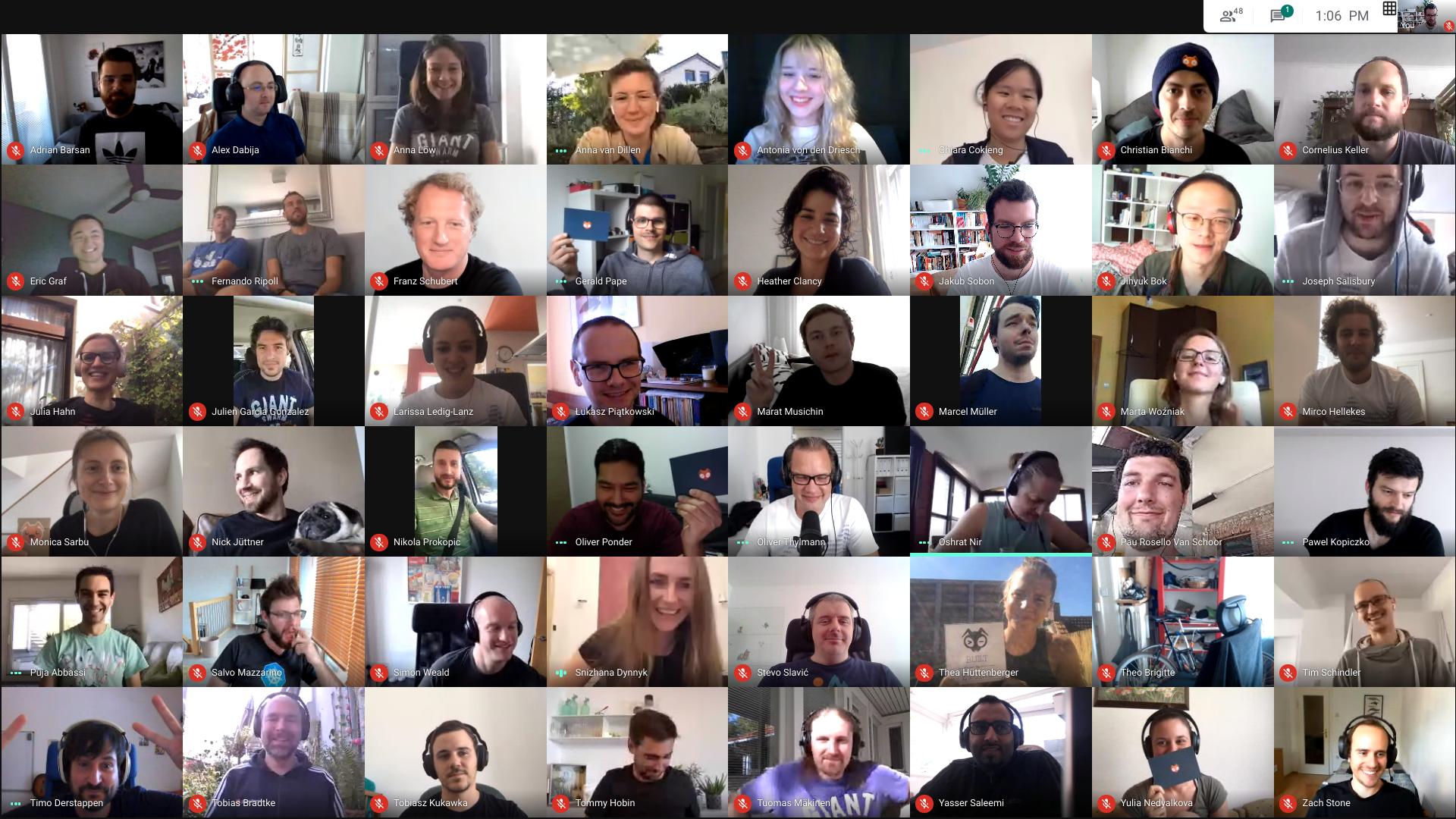 I need to start with an introduction, a setting of the scene if you will. By now, Giant Swarm is spread over several continents (but still mostly in Europe) and is fully remote. When we started out, we said that we would need to have an onsite twice a year, meaning a week where we get everyone together in one place around February and September.
In the beginning, we thought we'd need to do strategy sessions in-person but had to learn that we are either able to do them remotely or we just go home and close the company. However, social interactions and team building are a different matter. That's why we gather twice a year in amazing locations like Barcelona, Rome, Mallorca, Copenhagen, and Zürs... With the focus on everyone having a good time and building social bonds. Basically, what I like to call 'Glue Time'.
Then, as we all know, COVID-19 hit and things changed. Bummer. Sure, now everyone understands how we normally work and the company is running just fine. Our last amazing onsite was in Zürs in Austria, and the next one should have been now. However, months ago we realized that we wouldn't be able to get everyone together — not in the traditional sense, of course...
The challenge: can we do a remote onsite? 💻
Related: Giant Swarm loves challenges. We grow with them. We cuddle them. We hug them. And then we nourish them until they transform into opportunities. And that's exactly what we did here again...
Challenge accepted: remote onsite — virtually getting people out of their day-to-day work and allowing them to make new connections.
TL;DR: Last week we executed this and I can say that it was an amazing experience and an all-around success.
But let's start at the beginning.
After the goal was clear, we took the standard onsite schedule and agreed that many of the day activities would remain unchanged. This meant that teams, SIGs, and Working Groups would have time in pre-defined slots to meet and discuss relevant topics. Normal meetings were canceled and outside meetings were kept to a minimum. Then came the more complicated part.
Normally we have a villa where we hang out and spend time together. Thankfully, our front-end gang had it covered and took floorplanner.com and designed a virtual villa. While it was no replacement for IRL hanging out, it was interactive with avatars, and all wired together in an electron app that opens Google Hangouts instances when you click on a room, which was pretty awesome.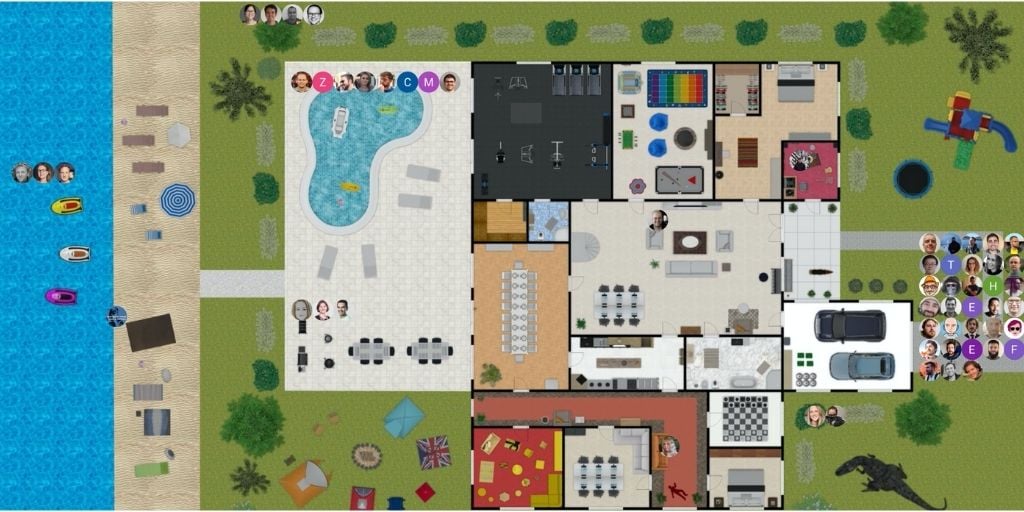 First up, we had a welcome session to get people thinking outside of their ordinary routines. We had prepared speakers for Monday evening. The only limit was that it shouldn't be someone that talks about Kubernetes. We wanted someone interesting but not totally work-related. We started off on Monday at 20h00 with Prof. Dr. Gunter Dueck with the focus on innovation, especially in the corporate context, as well as the divide between geeks and old-school management. After 45 minutes we also had 20 minutes to ask questions and really engage. It got the juices flowing.
Then, to really get people out of their normal rut, and explain to their subconscious that this was different, we followed on with the magician Pete Heat who really wowed us for 45 minutes. After that, we continued chatting and joking amongst each other about magic (and other things). Non-work things. The next morning, you could see that some people barely slept as they tried to reverse engineer the magic tricks. Geeks. 😁
Day 2: fitness and bonding 💪
Next up, we had booked a fitness trainer to give us morning yoga sessions and evening power workouts. The first session kicked off at 09h00 on Tuesday with everyone in a Hangout and the main trainer also being streamed from a studio via YouTube but being able to interact with us via Google Hangout. We might actually have to continue doing that more often.
In the evening we had a Quiz Dinner. Our own Larissa and Thea had asked all the Swarmers over the last few weeks to send in a fact about themselves that nobody would expect. They then put all of those facts on a slide deck with a choice of four Swarmers to pick from. We split up into six teams to compete and find out how well we really know each other. In fact, we did more than that... We cried from laughter talking about people that earned money speed eating, playing second league football, eating frogs, spending a day in jail, smoking a peace pipe with a Shoshone chief, being a drag queen on stage, and living on an island... It was almost three hours of pure fun and great bonding.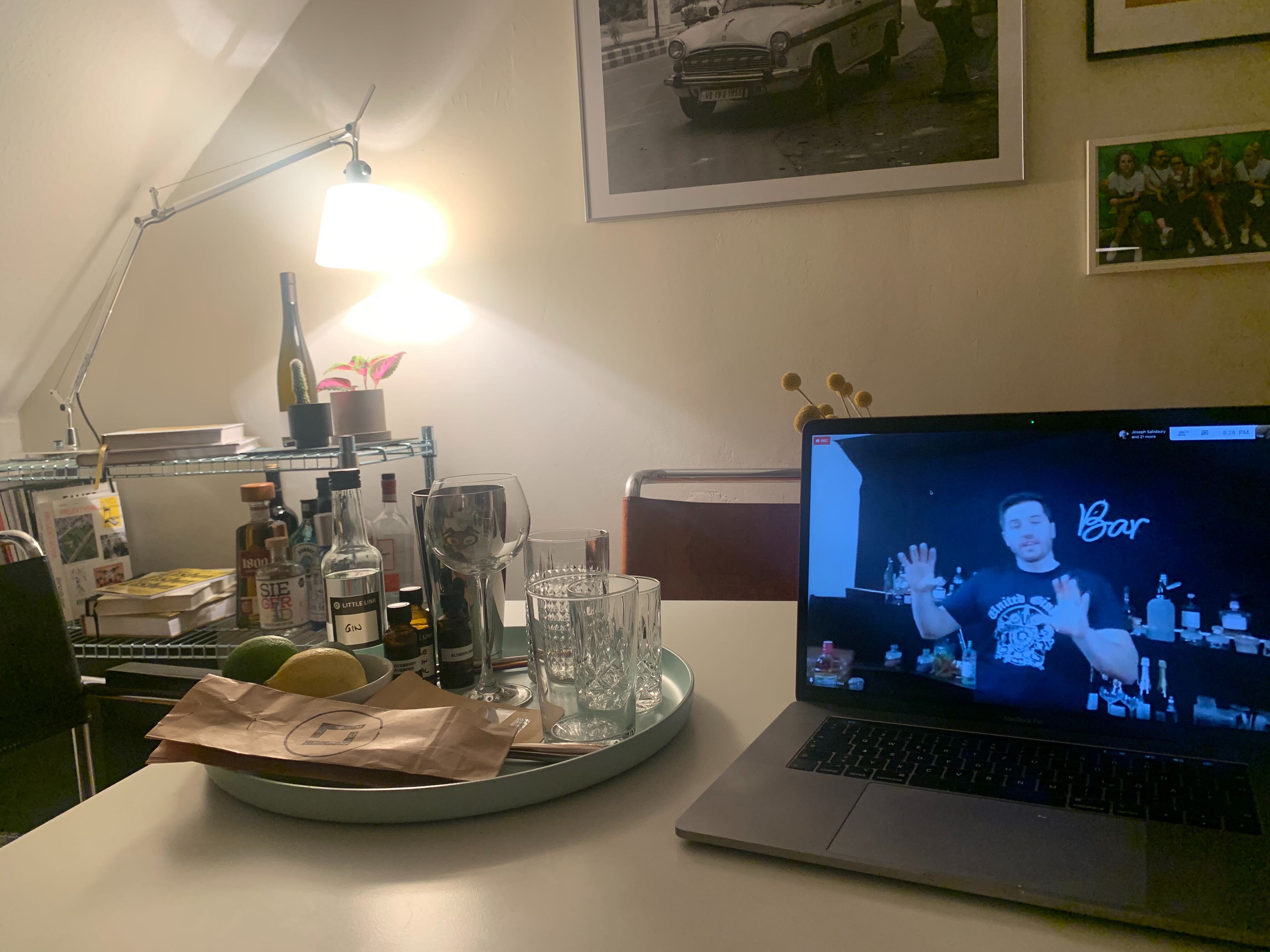 Day 3: cocktails🍸
The next thing we knew it was already Wednesday and the cocktail gear was needed, including a Giant Swarm branded shaker. To shake things up, we had organized a cocktail course with the gang from Cocktailkunst. We split into two groups and started making cocktails at 20h00, with some people having their spouses or even kids in the Hangout and while the course itself ended shortly before 23h00, people continued on until 02h00. This was when Swarmers really started to realize that this was something special and at the same time came the first comments that this was a 'real onsite'. I knew we were onto something.
Day 4: real-life meeting
🌍
By Thursday morning some people started having an onsite hangover and with that, we entered the final stretch with some more very productive meetings. The evening activities included real-world dinners for those that wanted to (and could) and an online escape room for those who wanted to keep it virtual. Overall, we had meetings in London, Berlin, Cologne, and Barcelona… On Friday, people had their heads spinning (with new information 😉) and we knocked out a remote onsite retro while the experience was still fresh albeit slightly hungover and sleepy.
Conclusion
All in all, this has been an amazing experience. Of course, we're still looking forward to a real-world onsite. However, it was still a special time that really brought people together and we already have stories to tell from this one as we had with all the others.
To wrap it up, we gifted a credit card loaded with €100 to everyone to take their loved ones to dinner. There could be no denying that this last activity was a great success as we checked Slack to see everyone had shared happy photos from their special dinners around the world.