Getting Hired at Giant Swarm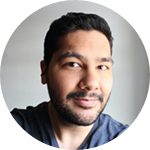 Oliver Nicolaas Ponder
• Jul 1, 2019
Working for Giant Swarm is awesome, I personally think it's an opportunity of a lifetime. (And nobody is paying me to say that. :p In fact, I've been asked to make clear that this is wholly my own opinion :) )
If you'd like some reasons why I think that's the case, well, that might just be my next blog post. In the meantime, maybe my previous blog post about my trip to South Korea may shed some light on at least one of the things I really like about working here.
So since Giant Swarm really believes in transparency, I'd like to tell you a bit about my experience being involved on the other side of the table of our hiring process.
Our hiring procedure involves 2 interviews and 1 presentation. It looks roughly like this:
Answer some questions that help us get to know you.
Here's an example for the front end position: "What was your biggest challenge working as an FE-Engineer? How did you solve it?"

You will be invited to a soft skills interview. Sometimes these are for 30 mins. Other times we make them an hour. The duration does not indicate whether it was a good call or not.

After that comes an invite to a technical interview, also 30-60 minutes long.

Get invited to present the solution to a hiring task to a larger group (not the whole company, but it is often upwards of 15 people)
This can be a bit intimidating for some, so you are scheduled to arrive early, that gives you some time to acclimate to the environment before everyone starts connecting to the call. It's totally fine to acknowledge you are nervous if you are. Often times that act of acknowledgment helps dissipate some of the tension. The hiring task itself is designed to be completed in less than 8 hours, but you spend the time on it when you can. You can let us know when it best works out for you to have the presentation, so it's not like you have a fixed amount of time to complete it.

Finally, await the hiring decision and our offer, which usually comes within a day or two.
Even though I was not deciding who would advance to the technical interview, I noticed a couple of points where candidates could improve.
Some C.V. Advice
My main advice here is that a brief introduction explaining why you are applying is really helpful in interpreting your C.V. For some candidates I might not see your work experience is totally relevant, but if you explain you are looking to try out a new thing, then that is totally fine and I don't have to spend any time guessing why you applied for the position.
It's most likely that these 'just a C.V. and nothing else' applicants are coming from some automated system, or a head-hunter, and if that's the case, they're not doing you any favors! Have a reason to apply, don't shotgun your C.V. into the world and hope to hit something. We know that writing this part of the application is what takes up a lot, if not most, of time and effort. We don't expect you to write an essay and are completely happy with 1-2 sentences, if your CV is not self-explanatory on why you applied for this specific position.
Another thing most candidates miss are links to their work or online profiles. So please show us your work. Give links or screenshots to stuff you're proud of. If you're not applying for a very visual position maybe you could show a Pull Request where you communicated particularly well or a repo with an interesting side project.
The Technical Interview
During this interview, someone who has a job similar to what you are applying for will have a talk with you.
For the front end engineer position, I start off asking some general questions to assess where you are in terms of experience with the technologies we currently use and intend to use in the near future. After that, I go straight to looking at examples of your past work in a screen sharing session.
I like to see more than just a tutorial app. It's always great to see past work that shows you had to make some trade-offs. I might nitpick a thing or two just to see how you respond to criticism and feedback.
If it is a tutorial app, try to take it a bit further than the tutorial. For example if the tutorial is a todo app, try to add authors to it and add some kind of association between todo's and authors. Notice the details, like error handling, code style, and usability.
The Hiring Task and The Group Presentation
During the hiring task,you'll present to a larger group of our colleagues. These will be people from all parts of the company, not just those who share your future potential job description.
Since we work remotely, communication is hugely important to us. I'm personally watching and listening to how you build context around what you are talking about, so that everyone can understand it, or at least follow the why.
And it's totally okay not to know something. We like to see how you deal with that, and how you have dealt with it in the past.
The group presentation is a chance for you to 'feel the culture'. Let us know a bit about yourself and what makes you tick. We like to have a glimpse of how you operate in a team, how you learn new things, and what you like to do in your spare time. We're always curious to know more about where you are in life and what motivated the decision to apply at Giant Swarm.
There is only about 30 minutes for your presentation. It's not often that candidates manage to deliver it in this time. We like to see your ability to edit yourself and communicate the most important things in a succinct way. After your presentation, there will be plenty of time for questions and answer where we go into a more conversational mode.
And please ask us interesting questions that show you've really considered working at Giant Swarm and are trying to understand what that would be like. This is also a chance for you to evaluate if we are a bunch of people you could picture yourself working with.
At the end of the day, for me, context is key. Explain your thoughts, what limitations you were working with, what you considered but ended up not doing, what you had to learn and how you went about doing that.
Some tips from recently hired colleagues:
Try to add some humor to the presentation.

Be who you are.

If you happen to bump into one or a few of us ahead of time at a meet-up or a conference, please do come by our booth and say hi :) We always love to meet people who are interested in joining the swarm.
I hope this post helps shed some light on the hiring process! And if you're thinking of applying, well I'm certainly looking forward to working with you and seeing you contribute to this amazing company.
You can check what spots we're currently hiring for on our career site.